Bergamaschi Library
In 2004, the Public Record Office Library of Reggio Emilia welcomed the donation of a collection of works by Father Aldo Bergamaschi (28/01/1927, Torrano di Pontremoli, Province of Macerata - 15/06/2007, Reggio Emilia). Father Bergamaschi became well known in his adoptive city, Reggio Emilia, particularly for his thoughtful and stimulating Sunday sermons given at the Church of the Capuchin Monastery. However he was also known for the difficult relations that arose between him and the ecclesiastical authorities, over certain theological and pastoral issues, which only over time seemed to be resolved.
A donation of Father Bergamaschi's papers was also made to the Civic Library in his home town of Pontremoli. Thus, for researchers wishing to find the full works of this philosopher-educationalist, it suffices to consult the Library of the Public Record Office in Reggio Emilia, as well as that of the Capuchin Monastery, and the Civic Library of Pontremoli.
The following notes, as well as the catalogue of Father Bergamaschi's works, are drawn from the local journal of history, Reggiostoria (XXVII, 2, April-June 2004, no. 103, pp 47-53, La Nuova Tipolito, Reggio Emilia).
Dal 2018 le opere di Aldo Bergamaschi hanno trovato una collocazione che meglio li valorizza nella sala della Direzione dell'Istituto archivistico. Pertanto le vecchie collocazioni U e MISC. sono sostituite rispettivamente da ABV (Aldo Bergamaschi Volumi) e ABO (Aldo Bergamaschi Opuscoli) come segue:
alla lettera U seguita da numero romano va sostituita la sigla ABV e il numero arabo, che indica la posizione del libro sul palchetto (numero di catena); alla sigla MISC. CXLVI va sostituita quella ABO seguita dal numero arabo di catena.
La raccolta si arricchisce delle nuove edizioni aggiuntesi nel tempo:
Mazzolari Primo, Diario IV 1938-25 aprile 1945. A cura di Aldo Bergamaschi. Bologna, Edizioni Dehoniane, 2006 (ABV, 19)
Bergamaschi Aldo, Quale Europa?. Firenze, Società Editrice Fiorentina, 2013 (ABV, 26)
Bergamaschi Aldo, La cena perduta. Firenze, Società Editrice Fiorentina, 2016 (ABV, 27)
Scarica l'articolo PDF (11 MB)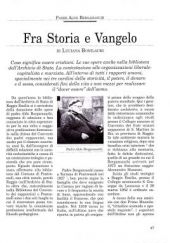 Catalogo della "Biblioteca Bergamaschi" PDF (520 Kb)