Fotografia Europea 2017 - Off
Reggio Emilia State Rcord Office, corso Cairoli n. 6 - Comune di Reggio Emilia
6 May - 30 June 2017 - Exhibitions
Monday – Friday 9,30-12,30
Special opening times:

Saturday 6 May h. 17,00-20,00
Sunday 7 May h 10,00-13,00
Fotografia Europea 2017

XII EDITION
Time maps.
Memory, Archives, Future
The new edition of Fotografia Europea wants to stimulate reflection on memory, archives and future and apply them to factual current issues: forgotten roads, menacing situations, the search for alternatives.
We envision the concept of archive not in terms of a space behind closed doors, of a conservative place: on the contrary. This is about a spread-out place where stories and images can be found and used to help us understand our present and imagine our future: this is no retention exercise; this is the activation of our present through our memory.
Elio Grazioli, Walter Guadagnini and Diane Dufour explain the values and aspects offered by this issue: "For us, focusing our quest on the interpretation of archives naturally means asking questions about imaging, about photography. Again: are these pure documents? Recordings? Pieces of data? Interpretations? Expressions? Imaginations? Transfigurations? Does all this belong to the past, the present or the future?
Nowadays, when we file photography into an archive, we often deal with digital data, something immaterial, no film rolls or prints are involved. No more photographic albums to archive our memories: just a folder on our desktop, ready to be shared with tens of thousands of people, friends and strangers alike".
Going through archives, a photographer finds his inspiration through images: these images from the past change, once pulled out of an archive, and become part of a more or less plausible story, of a more or less applicable utopia.
The title Time maps points directly at this power that images have to draw the topographic chart of our memory, as well as the representing a proposal for the future".
#recollection and memory #the weight of memories
Some authors have decided to act as if they were one sole author, a super author – and a very nice habit it is too. It's what happens in photography agencies, which – with the simple gesture of omitting the name of the photographer – make the image impersonal.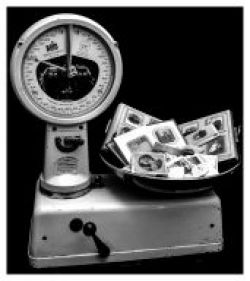 In this case, however, we're talking about the structured output of a group of friends who are determined to analyse and garner pleasure from working with people in the photography industry. This produces not uniformity and unity, but a wide range of solutions for a far-reaching and intriguing topic, focusing on the act and uses of photography, at times taking on the appearance of a collective, surrealist game, the projection of a hidden – but shared – thought.
Like in one of those puzzles so dear to Breton and Co., where relationships are built between things and words and mysterious statements formed, in metonymic illustration the weight of the photograph underlines the title. Photography is used as a way of condensing the passing of time, illustrating faces and figures that reverberate around spaces and objects which diminish the bond with modernity.
Memory also lies in the objects and spaces which produce scenes around them, modelled around the furniture and conjuring up images of people, voices, gestures. Gesture are our non-verbal thoughts and language, while there is also edible language, handed down from generation to generation in the kitchen – that great theatre of memory.
Some objects seem to have survived some shipwreck: the large, disused factory is the Titanic. The Reggiane engineering workshops are depicted in all those photography campaigns heralding their regeneration, yet the images continue to capture fragments of existence.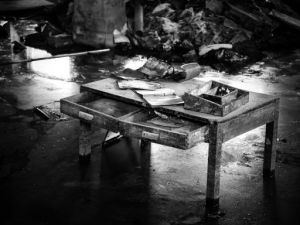 Recollections are also organised into memory, a system that can be used again in the future. The black landscape of names written in every European language, a single absurd disaster of civilisation, an opposing perspective of bibliographic records, those precious resources which seem to provide a snapshot of ploughed fields, with trenches and drains – a land of the thoughts and words of the great scholar of the agricultural landscape, Emilio Sereni.
Finally, two alchemists, caught between matter and spirit, like all alchemists, determined to transform fleeting memories into golden revelation.
Paolo Barbaro
Aprile 2017
Documents to download