2011 FESTIVAL OF MUSIC "From Distant Seas. Musical Infinity " III
Reggio Emilia State Records Office
9,30 p.m. 21-22 June 2011 - Musical event
This year, as part of the 2011 "European Festival of Music", the event "From Distant Seas. Musical Infinity" is back once again, now in its third year. It is made up of two evenings of concerts dedicated to ensembles.
The Festival of Music has become a phenomenon in its own right, a European-wide initiative that now involves numerous cities all over the world. In Europe, since 1995, the cities of Athens, Barcelona, Berlin, Budapest, Brussels, Lisbon, Liverpool, Lausanne, Madrid, Naples, Paris, Prague, Rome and Senigallia (Ancona) have become involved, forming an Association. In Italy, various cities have joined the event over recent years, and many others are following suit.
The Festival of Music is not just a festival. It is a huge, free, public event, which is held on 21 June every year to celebrate the summer solstice, an initiative open to anybody, amateur or professional, who wishes to perform in front of a large audience. Like the wide range of people in attendance, all musical genres are welcome, with the aim of making playing music popular and of uniting people, both young and old and from different social backgrounds, with a variety of musical forms. Musicians are invited to perform for free, and all the events are free for the public, hosted both in open places - in streets, town squares and parks - or in other traditional venues, such as church courtyards, museums or castles....
The event is organised by the State Records Office, in collaboration with Reggio Emilia City Council, and includes the artistic contribution of the A. Peri School of Music, which are providing the guitar and flute ensembles performing on 21 and 22 June respectively, at 9.30 p.m. in the State Records Office gardens.
The repertoire will be extremely diverse, ranging from the classical masters such as Bach, Mozart and Telemann, right up to contemporary composers such as Brouwer, Farkas and Hirose.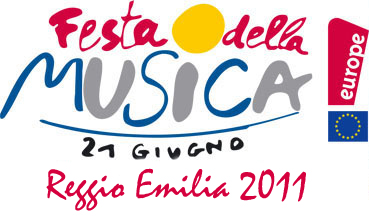 www.archiviodistatoreggioemilia.beniculturali.it
Documents to download